Our growing team at Armidale settles into their new contemporary space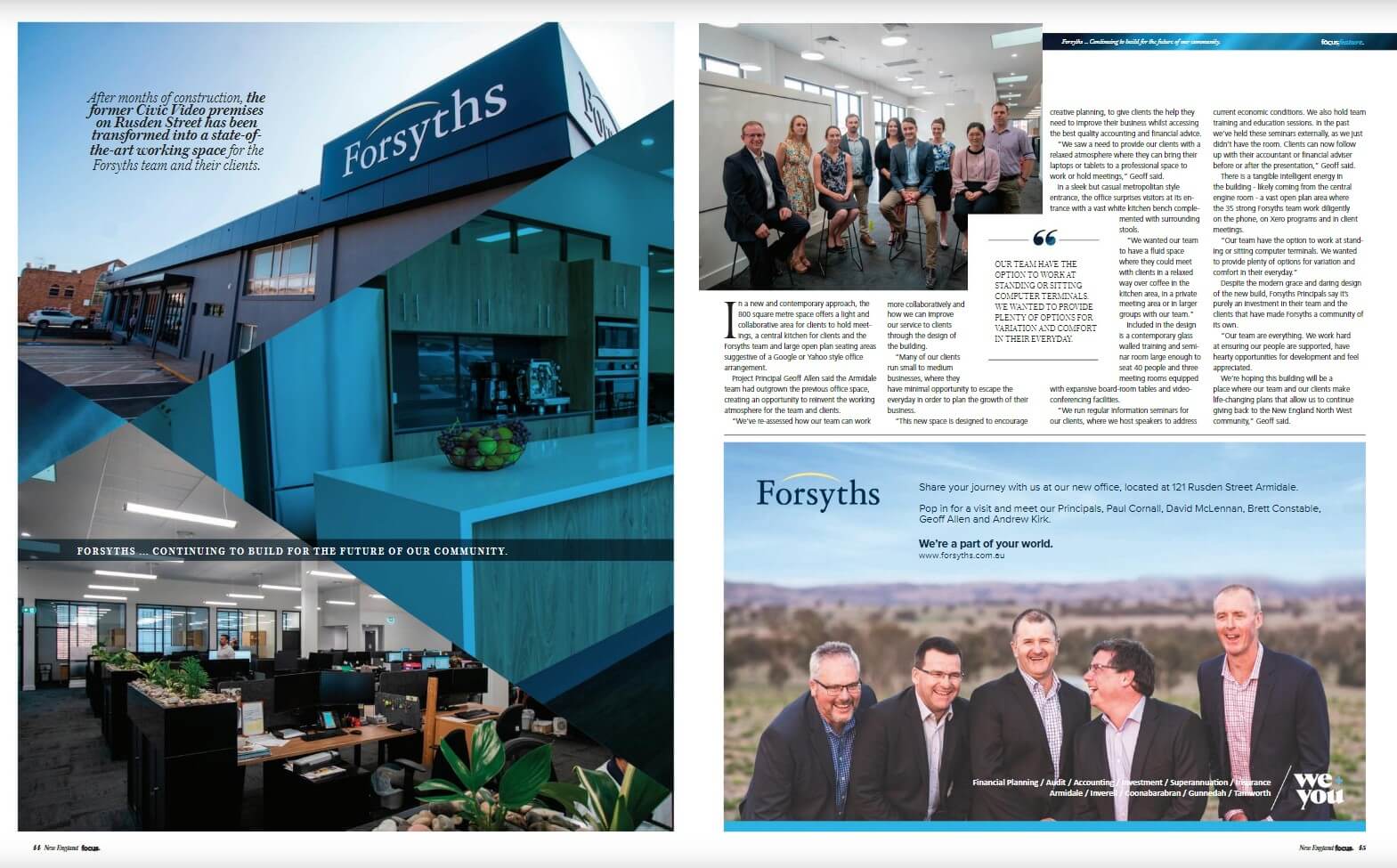 Focus Magazine made a visit to the former Civic Video premises on Rusden Street Armidale that has been transformed into a state-of-the-art working space for our team and their clients.
We were proud to welcome Focus to the new office and were delighted with the beautiful editorial about our wonderful accounting and financial services team.

In a new and contemporary approach, the 800 square metre space offers a light and collaborative area for clients to hold meetings, a central kitchen for clients and the Forsyths team and large open plan seating areas suggestive of a Google or Yahoo style office arrangement.
Project Principal Geoff Allen said the Armidale team had outgrown the previous office space, creating an opportunity to reinvent the working atmosphere for the team and clients.

"We've re-assessed how our team can work more collaboratively and how we can improve our service to clients through the design of the building. "Many of our clients run small to medium businesses, where they have minimal opportunity to escape the everyday in order to plan the growth of their business. "This new space is designed to encourage creative planning, to give clients the help they need to improve their business whilst accessing the best quality accounting and financial advice.
"We saw a need to provide our clients with a relaxed atmosphere where they can bring their laptops or tablets to a professional space to work or hold meetings," Geoff said. In a sleek but casual metropolitan style entrance, the office surprises visitors at its entrance with a vast white kitchen bench complemented with surrounding stools.
"We wanted our team to have a fluid space where they could meet with clients in a relaxed way over coffee in the kitchen area, in a private meeting area or in larger groups with our team." Included in the design is a contemporary glass walled training and seminar room large enough to seat 40 people and three meeting rooms equipped with expansive board-room tables and videoconferencing facilities.
"We run regular information seminars for our clients, where we host speakers to address current economic conditions. We also hold team training and education sessions. In the past we've held these seminars externally, as we just didn't have the room. Clients can now follow up with their accountant or financial adviser before or after the presentation," Geoff said.
There is a tangible intelligent energy in the building - likely coming from the central engine room - a vast open plan area where the 35 strong Forsyths team work diligently on the phone, on Xero programs and in client meetings.
"Our team have the option to work at standing or sitting computer terminals. We wanted to provide plenty of options for variation and comfort in their everyday." Despite the modern grace and daring design of the new build, Forsyths Principals say it's purely an investment in their team and the clients that have made Forsyths a community of its own.
"Our team are everything. We work hard at ensuring our people are supported, have hearty opportunities for development and feel appreciated. We're hoping this building will be a place where our team and our clients make life-changing plans that allow us to continue giving back to the New England North West community," Geoff said.
---
Meet the Team

JACOB SAUER
In recognition of his innovation and drive within Forsyths' audit team, Jake has recently taken up one of three coveted Associate Principal positions at Forsyths. Jacob recently played a key role in Forsyths becoming a preferred tenderer for green house energy audits.
Jacob says Forsyths is one of the few firms in the New England North West providing advice and assurance to businesses participating in the Clean Energy Regulator's Emissions Reduction Fund: "I think there is significant scope for regional businesses to incorporate innovative and sustainable practices to forge a competitive advantage.
"I am passionate about working with clients to establish new and ground-breaking ways to improve their businesses. The Emissions Reduction Fund is fascinating, because it provides businesses with a variety of contract opportunities to increase revenue whilst contributing towards a sustainable future." Jacob has also been named as a finalist for the 2019 Accountants Daily 30 Under 30 Awards. The Awards recognise the up and coming names in the accounting industry
KIRSTY MARTIN
Kirsty Martin says all her clients ask whether being an accountant is boring! She assures them it isn't! "It is great to help my clients to take a break from their busy day-to-day and look at their financial position. I really enjoy helping clients establish their business and family goals, and what they need to do to get there.
"We have a very supportive and motivating team at Forsyths. One of the best parts of my job is certainly our team," Kirsty says. Kirsty has been with Forsyths for seven years and living in the New England for her whole life. Kirsty says she can't imagine being anywhere else. "The friendly nature of the New England is beautiful.
I love that people will always say hello in the street, whether they know you or not. "In the current dry times you have to admire the spirit of our community doing it tough with the drought and fires - but still people pick themselves up and keep going every day. "I hope we will soon be celebrating the good times," Kirsty said
JESSIE ZHANG
Jessie Zhang loves to put the accounting knowledge she has accrued over 6 years between Australia and China into practice for her clients.

"I love doing anything for our clients needs, easing their frustrations with any issues and answering any questions they have."

Jessie says she loves many things about living and working in the New England area, particularly the friendly people, easy environment for raising her children and the good air quality (bushfires not included) "I also love working with my excellent colleagues at Forsyths, serving our lovely clients and enjoying our new office!"



MATT SCHAEFER
Matt Schaefer is one of Forsyths' great success stories. He has been part of the team since the beginning of his career and has thirteen years of corporate and client knowledge. Matt is also an exceptional mentor to our younger team members.
"I enjoy working closely with our clients to help face their business challenges. Accounting isn't generally seen as people helping people, but that's the aspect that's most attractive to me," Matt says.
Working with a range of large and smaller clients, Matt says the drought is bringing an increased need for planning. "Cash flow and financing issues are forefront for much of our community right now, and planning for the next 6-18 months will be crucial as we navigate through the tough times. "It's a privilege to provide support to our clients, being a willing listener and helping to set goals for the future." Matt has a family background in accounting and has a drive to continue developing his technical skills.


SARAH KENT
Sarah Kent is one of Forsyths' rising stars. Graduating with her Bachelor of Commerce (accounting) at the University of New England last year, her enthusiasm for accounting and for her clients is infectious.
"I love that I can walk into the office and know that I will be challenged and pushed beyond my limits. I was actually enrolled in Primary Education when I started at university, but for some reason I knew I wouldn't love it.
My next option was accounting, because I loved business studies at school and was quite good at maths - I figured if you put the two together you would get accounting!" Sarah likes working for a larger firm in a regional centre, as it provides the opportunity to develop her career while enjoying the personal relationships country living brings. "I would like to experience working with big corporate clients, but I think that often means relocating to the city, and that's not for me. Being a tax accountant is what suits me best, and that's mostly because of the great relationships I have with my clients. "Forsyths is one big family and we look after each other."
ROD WARK
In recent weeks Rod Wark has joined the Forsyths team. Rod lives in Guyra and travels across the New England visiting Forsyths' accounting and financial advising clients. "My love for the job comes through the comfort that comes when clients know they have a secure plan for their future.
"I enjoy being on the road. I've been working with families and businesses in the New England for 22 years. The joy comes when I see clients I've known since they were kids; I've seen them plan for their wedding, their children and their children's education. While others, I've shared the loss of their parents and preparing for older age themselves. It's a privilege to help people through the momentous stages of their life," Rod says.
Rod has a special interest in strategic planning for wealth creation, superannuation and retirement planning, self-managed superannuation funds, aged care planning and personalised share portfolios. "I like to provide options in the best interest of my clients and the knowledge that allows them to build strong financial plans - whatever their stage in life."